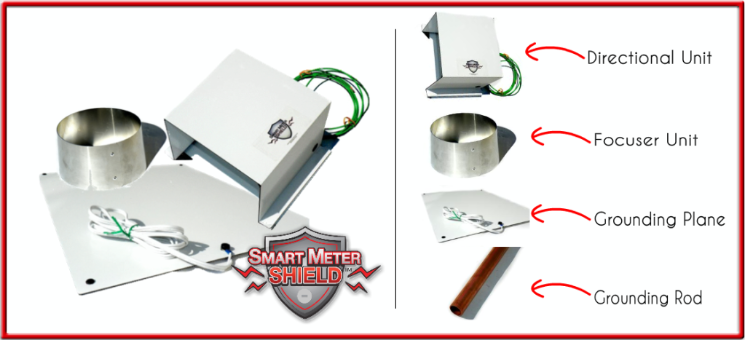 The Smart Meter Shield™ is a radiation reducer.
It is a custom designed and manufactured protection system that directs radiation emitted by the smart meter away from your home. It uses SmartShield Technology to effectively mitigate radiation being emitted from the smart meter. The Smart Meter Shield™ covers the smart meter with three different shielding components made of aluminum, and an aluminum composite.
1) The Focuser Unit is engineer designed and wraps around the smart meter. It redirects the radiation beaming from the sides of the smart meter.
2) The Directional Unit is designed as a four sided component with an open end.  It provides a cover that directs the radiation to one side, to the Grounding Plane  and to the ground. This unit must be grounded for maximum effectiveness.
3) The Grounding Plane is designed as a two shielded panel that is grounded to direct radiation from the back of the smart meter to the ground.
Q. How easy is the Smart Meter Shield™ to Install?
A. It should take less than 30 minutes to install. Depending what grounding source is chosen, one can install the Smart Meter Shield quickly and easily themselves or with the help of an electrician. An installation guide and video are provided with your Smart Meter Shield™ kit. You may view the installation video here.
Q. Will the utility company still be able to take the electrical readings from our home?
A. Yes, the utility company can still obtain the overall electrical usage of your home with the Smart Meter Shield™ installed.
Q. Will I feel a difference once the Smart Meter Shield™ is Installed?
A. Everyone reacts differently to electromagnetic fields. Some are more sensitive than others and symptoms differ from person to person.  Potentially, with a Smart Meter Shield™ one may be able to sleep better and longer; be able to think clearer; have more energy; and/or feel better overall. When you install the Smart Meter Shield™ you will have the "peace of mind" that you have reduced the microwaves from the smart meter in your living space.
Q. Does the shield fit every meter?
A. The Smart Meter Shield™ fits meters with a circumference of 19 inches and a diameter of 5.6 inches. It will fit most meters in the San Diego County area.  The shield was designed based on the specifications of the Openway® Centron® meter. See our note below regarding size.
Q. What are the possible benefits of having a Smart Meter Shield™?
A. Some of the benefits you might experience are:
Better Sleep
Piece of Mind
Reduced Ringing in the Ears
More Energy
Feel Better Overall
Think Clearer